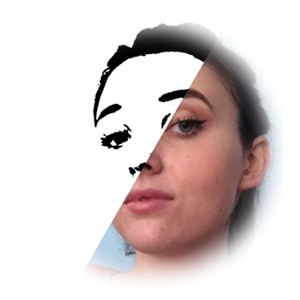 Emily Coelli is an emerging artist who has a love for painting women's faces with watercolours. However, she is in no way limited to this. Emily has a passion for watercolour paints and their unpredictable quality. She strives to keep her works fresh by utilising minimal amounts of paint and allowing for negative space to be a large and significant part of her work.
Emily's first exposure to watercolour was in her senior years of high school. This is where she experimented and developed the basis of her style. She has never had any formal training in watercolour painting. This, however, is something that she is quite grateful for. She feels that, as a result, she develops unique pieces that do not conform to traditional techniques.
Emily graduated from a Bachelor's degree in Visual Art (QUT) in 2015. During this degree she learnt about and experimented with a broad range of media, including sculpture, performance and conceptual art as well as many other forms of contemporary art. Although it is not strictly evident in her current work, she is confident that her exposure to this side of the artistic world has stretched her imagination and contributed greatly to the thought process behind her works. It is this combination of experiences that, in turn, assisted with the creation of her current, different and intriguing works.
Derelict Space Sheep is proud to showcase Emily's artwork on the covers of Sirens and Crossbones and Skulls.
For more about Emily please visit her Facebook page and artist website.