Star Quest: Spacejack!
by Terrance Dicks (W. H. Allen, 1978)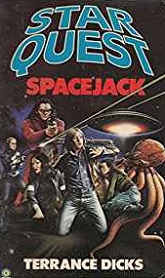 Drawing on the SF zeitgeist of the late 1970s, Dicks managed to channel Doctor Who, Star Wars, and even Planet of the Apes in this slim Middle Grade adventure. An easy, fast-paced read with decent characterisation and several positive (if overt) morals.